One of the things I'm most smug about is that time I went on a 2-week vacation for only €200 (flights and accommodation included). Yup. It's not so much that I hate spending money, but I want to get the "maximum" experience for what I paid, as well as save money for fun things in the future.  I used to believe travel was too expensive for me, but luckily over the years I've learned a few tips to make your money last longer..
(1). Don't just look at flights – train, bus, boat or rideshares are great options.
Find flights on Skyscanner and be open to flying at "weird" times of day.
Flixbus is a discount bus company, offering over 400,000 connections a day between European cities (warning: it isn't always on time, so embrace "slow travel" and keep your schedule flexible. However, I went from France to Italy for €7, so it's a fair price).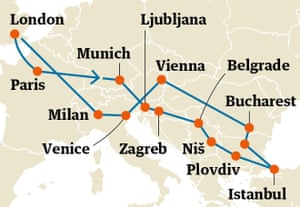 A 1-month InterRail ticket is a great investment: you have unlimited use of the train network in 33 countries in Europe. For route inspiration, see this articlee. If you're a deep sleeper and want free accommodation, you could even catch an overnight train and sleep onboard.
For some destinations, boat journeys might be cheaper than flights, e.g, Ibiza. Walk-on tickets shouldn't be too expensive, but you could always carpool with others to reduce your costs.
Rideshare groups online and apps like BlaBlaCar are like "smart hitchhiking". The app lets you see drivers passing through your destination or people planning a long car journey. Usually, you contribute some money toward fuel, and the more people in your group, the cheaper (and possibly safer) this could be.
(2). Travel off-season, at night, and on weekdays.
Summer is generally the most expensive time to travel. Flights and accommodation will be waaay cheaper and less crowded in "off-peak" months, and sometimes there's even a price difference between Wednesday and Friday. Take overnight buses and red-eye flights to save even more money.
(3). Pack light.
Avoid bringing and paying for unnecessary bags, and if possible, just bring carry-on luggage. It's also great not having to haul clunky bags up endless metro stairs and through cobbled streets. I'll never forget my journey with a 30kg bag through Paris. What a workout. NEVER AGAIN. Packing light is an art you learn over time, but some general tips:
Quality, not quantity. Bring one good pair of comfy shoes that you can wear to any activity. Bring an all-weather jacket. Bring light clothes that "go" with everything – not once-off outfits.
Do laundry: ring just a few days supply of clothes, and stay in hostels/hotels with laundry facilities (a friend always brings fishing wire, and hangs her clothes to dry in her room rather than pay for the dryer).
Leave your hairdryer, towels and things at home. Most hostels/hotels supply these.
Don't bring expensive things like your laptop. It takes up space and is likely to get stolen. Most hostels have computers you can use for free/very cheap, and if not, there are always cafes. I once did a college essay in a hostel cafe and the guy next to me was negotiating a business deal. You won't be the only one!
Make a "packing list" and pack in advance. This makes sure you won't forget the essentials (and end up buying them when you get there), or panic-pack random, unnecessary things.
(4). Stay in hostels – or Couchsurf.
Stay in cool parts of town near to all the main sights, for like €10-€20 a night. If you're uneasy about staying in a shared room, look for an all-female dorm or find a "quiet" hostel, as opposed to a "party hostel". Read reviews on hostelworld before booking. I've met some incredibly interesting people just by striking up conversations in the common areas of hostels, and this is actually one of the parts of travel I most enjoy. Bonus: hostels generally have free or cheap activities like game nights, group dinners, or bar crawls. Couch surfing is an app which lets you find "hosts" with couches you can sleep on. There are also Facebook groups like "Host a Sister". Be careful, though – someone I know once went to stay with a "naturalist" host. She thought that meant he loved nature, and was shocked when she got there and discovered everyone staying in his place was naked all the time. But it was still a good (and free) trip!
(5). Hang out with other cheapskate travellers.
I've seriously met the most interesting people while travelling. I met an artist who'd have a lot of love affairs, someone banished from their home country, a guy building his own startup, and lots of cool, witty people who were also trying to travel as cheaply as possible. 3 of the 4 nights I was in Amsterdam, I went out with random people I chatted to earlier that day, and they always had great tips on cheap or free things to do. Other ways to meet people include Couch Surfing social events, meetup.com, Facebook groups like "Solo Female Travellers" or ones specific to the destination. Look at Erasmus student pages for that city if you are a student and want to find a cheap/free party or event. You could use apps like Tinder or Bumble to meet locals with cool recommendations – but you might get mixed results!
(6). GO ON ALL THE FREE WALKING TOURS.
Most hostels offer/will connect you with free tours, and you could look online for more options. A standard walking tour is a good way to learn some history and see where all the main sights are, while special interest walking tours also exist (Harry Potter/franchise, street art, architecture, food tours, etc). The content of a free walking tour is usually exactly the same as on a paid tour. You should give the guide a tip but this is still much cheaper and more personal than a bus tour. The tour guides are usually super helpful and full of great tips. Yes, I was a tour guide one summer myself!
(7). Keep your food costs low.
Bring your reusable mug or water bottle and fill up when you can. Consider staying in a hostel with a kitchen and fridge space. Buy some groceries – it's usually the same price (or if you're from an expensive country like me, cheaper!) than doing groceries at home. Cook a simple meal and bring the leftovers in your tupperware the next day -you could check out a free local park and make it a picnic!
(8). Look for public transportation deals.
Public transport is usually much cheaper than "tourist" transport. You can usually get a 3-day, weekly or monthly pass, and save a lot of money. Some regional transport deals might exist: for example, in the region of France I studied abroad in (Provence), you could get a "Cartreize" card at the local bus station for €5. Once you had this, you could use any of the bus lines in the region for €2 per day once you had it – it was worth queuing up for! You could take multiple buses in the same day and pay just €2, which was amazing. The same journeys in Ireland would cost €10-€20 each.
(9). Visit less tourist-y destinations & get out of the capital.
THIS is a big one. Major tourist destinations and capital cities always attract large numbers of tourists, meaning they become crowded and expensive. If you go somewhere with fewer tourists, prices are generally lower. If you visit a capital, why not go to a nearby city or town for a day or two? You get two experiences, and it's usually cheaper. Make your way to another destination. For example, I flew to Tallinn, Estonia (€19 flight) before heading on to visit friends in Finland. (€7 boat). Tallinn was BEAUTIFUL, and I would love to go there again! Aside from my Finnish friends, no one had ever recommended it to me, and there were few tourists. It's has a beautiful, fairytale Old Town, lots of free/cheap museums, and a very cool hipster district, Kalamaja, with tons of affordable restaurants, galleries, and interesting post-Soviet architecture.
(10). Change your lifestyle.
I think travelling is one of the most enriching and fun things you can do, and it isn't always feasible to do it once you have kids or get older – so do it now! Obviously, not very many of us can travel full-time, but there are a few things you can do. Re-evaluate your spending, and try to save money in your day-to-day life. Why spend extra on groceries when you could save up and afford a trip? Sublet or AirBnb your room/apartment when you are away travelling. If you can, arrange some time off between your work contracts and use that time for slow-travelling or a short experience abroad.
(11). If you want to stay abroad for a few weeks/months, volunteer or get a seasonal job.
I know, I know, you don't want to work on vacation – but if you want a longer stay, it's unavoidable. Try things like Workaway (a website where "projects" can host "workaway-ers"/volunteers. Typical workaways include some kind of volunteer/NGO project, working in a guesthouse/hostel, farm/animal-related work, outdoor/renovation projects. My personal favourite would be working with llamas or sled dogs – both are options!) or WWOOF (World Wide Organic Farming – I ain't cut out for farm life, but just putting it out there!).
These are fun experiences that let you get to know the region. If you're a native English speaker, you could also consider Angloville, working in a kid's language summer camp (lots of jobs in this, even if you have no experience), working in a resort/hotel, or being a summer au pair (like a nanny. I did this and it was a very cool experience, but it isn't for everyone!).
(12). Take any chance to move abroad – a new base gives you a chance to really explore another country.
If study or doing your internship abroad is an option, do it. Not only will you get to know the host country, you can visit nearby countries must more easily and quickly than if you were at home. If you go within Europe, you can get "Erasmus grants": money from the EU to take a semester/internship abroad. For example, I studied abroad in France (yeah I know I'm being this girl) and the student room I rented was literally HALF the price of my room in Ireland, plus I got Erasmus money every month – it was way cheaper than staying home! If travel is really your passion, consider getting a "remote" job which will allow you to work from anywhere. Tip: keep your work laptop in your carry-on. A friend of a friend's luggage (which contained her work laptop) got sent to the other side of the world. Not ideal.
I hope these tips were helpful and that I've motivated you to travel more in the future.  Even if I had a lot of money, I would still probably choose to stay in hostels (maybe I'd get a private room, but I'd still stay there!) and do free activities just because I enjoy it so much. The people are cool, you see a less tourist-y side of the city, and some of the best things to do are free anyway – like the Louvre in Paris, walking the Red Light district in Amsterdam, and visiting the Colosseum in Rome. And you can do a lot for a small amount of money. Just look at this travel vlogger who tries to spend only $10 a day in some destinations – he manages to have a great time even in expensive cities like Oslo.
So that's all. Share your tips for travelling cheaply in the comments! Also, what's the most underrated place you've been to? What destination(s) do you recommend to everyone? I love hearing about travel so feel free to share 🙂